The Jazz Room: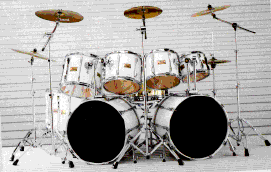 A Library of Jazz Resources: Jazz Books, John Coltrane
Here are a few suggestions for your jazz reading.
Jazz and Biography
Balliett, Whitney, American Musicians: 56 Portraits in Jazz (1986)
Berendt, Joachim. The Jazz Book, rev. ed. (Chicago Review, 1982).
Berry, Jason, et al., Up from the Cradle of Jazz: New Orleans Music Since World War II (1986)
Blesh, Rudi, Shining Trumpets, rev. ed. (1975)
Carr, Ian and others. Jazz: The Essential Companion (Prentice, 1988).
Chambers, Jack, Milestones One: The Music and Times of Miles Davis to 1960 (1983) and Milestones Two: The Music and Times of Miles Davis since 1960 (1985)
Charters, S. B., Jazz: New Orleans, 1885-1963 (1963)
Chilton, John, Who's Who in Jazz (1978)
Cole, Bill, John Coltrane (1976)
Collier, J.L. The Making of Jazz (Dell, 1979).
Condon, E., and Sugrue, T., We Called It Music (1947 repr. 1987)
Crowther, B., and Pinfold, M., The Jazz Singers (1988)
Davis, Francis, Jazz in the 1980s (1987)
Davis, Miles and Troupe, Quincy Miles: The Autobiography (1989)
Feather, Leonard, The Encyclopedia of Jazz, rev. ed. (1960)
Feather, Leonard, and Gitler, Ira, The Encyclopedia of Jazz in the Seventies (1976)
Feather, Leonard. The Encyclopedia of Jazz (Da Capo, 1984).
Gitler, Ira. Jazz Masters of the Forties (Da Capo, 1982).
Gridley, M.C. Jazz Styles, 3rd ed. (Prentice, 1987).
Giddens, Gary, Celebrating Bird: The Triumph of Charlie Parker (1986)
Gioia, Ted, The Imperfect Art: Reflections on Jazz and Modern Culture (1988)
Gitler, I., Swing to Bop (1985)
Hentoff, Nat, Jazz Is (1976)
Hodeir, Andre, Jazz, rev. ed. (1980)
Hadlock, Richard. Jazz Masters of the Twenties (Da Capo, 1986).
Jones, LeRoi, Black Music (1967)
Kernfield, B., ed., The New Grove Dictionary of Jazz, 2 vols. (1989)
Kynaston, Trent, and Ricci, Robert, Jazz Improvisation (Prentice 1978)
Litweiler, John. The Freedom Principle (Da Capo, 1989).
Nisenson, Eric, Round about Midnight: A Portrait of Miles Davis (1982).
Ostransky, Leroy, Understanding Jazz (1977)
Panassie, H., The Real Jazz (1960; repr. 1973)
Priestly, Brian, Charlie Parker (1984)
Resiner, Robert G., Bird: The Legend of Charlie Parker (1977)
Russell, Ross, Bird Lives! The High Life and Hard Times of Charlie (Yardbird) Parker (1973).
Schuller, Gunther, Early Jazz: Its Roots and Musical Development (1968), and The Swing Era: The Development of Jazz, 1930-1945 (1989)
Smith, W. C., and Hoefer, G., Music on My Mind (1964; repr. 1975)
Stearns, Marshall W., The Story of Jazz (1956; repr. 1977)
Shapiro, Nat and Hentoff, Nat, eds. Hear Me Talkin' to Ya (Dover, 1966).
Simpkins, C. O., Coltrane: A Biography (1977 repr. 1989)
Southern, Eileen, The Music of Black Americans (Norton 1983)
Tanner, Paul, and Gerow, Maurice, A Study of Jazz, 3d ed. (1977)
Terkel, Studs. Giants of Jazz, rev. ed. (Harper, 1975).
Thomas, James C., Chasin' the Trane (1975).
Tirro, Frank, Jazz: A History (1977)
Williams, Martin T., Jazz Heritage (1985).
Wilmer, Valerie. As Serious as Your Life (Chicago Review, 1980).
These liner notes written by the great musician, John Coltrane, gives quite an insight to his creative thoughts in recording the "Love Supreme" album.

John Coltrane's Liner Note
DEAR LISTENER:
All Praise Be To God To Whom All Praise Is Due. Let us pursue Him in the righteous path. Yes it is true, "seek and ye shall find". Only through Him can we know the most wondrous bequeathal.
During the year 1957, I experienced, by the grace of God, a spiritual awakening which was to lead me to a richer, fuller, more productive life. At that time, in gratitude, I humbly asked to be given the means and privilege to make others happy through music. I feel this has been granted through His grace. ALL PRAISE TO GOD.
As time and events moved on, a period of irresolution did prevail. I entered into a phase which was contradictory to the pledge and away from the esteemed path; but thankfully, now and again through the unerring and merciful hand of God, I do perceive and have been duly re-informed of His OMNIPOTENCE, and our need for, and dependence on Him. At this time I would like to tell you that NO MATTER WHAT...IT IS WITH GOD. He Is Gracious and Merciful...His Way Is in Love, Through Which We All Are. It Is Truly--A Love Supreme--.
This album is a humble offering to Him. An attempt to say "THANK YOU GOD" through our work, even as we do in our hearts and with our tongues. May He help and strengthen all men in every good endeavor.
The music herein is presented in four parts. The first is entitled "ACKNOWLEDGMENT", the second, "RESOLUTION", the third, "PURSUANCE", and the fourth and last part is a musical narration of the theme, "A Love Supreme" which is written in the context; it is entitled "PSALM".
In closing, I would like to thank the musicians who have contributed their much appreciated talents to the making of this album and all previous engagements.
To Elvin, James and McCoy, I would like to thank you for that which you give each time you perform on your instruments. Also, to Archie Shepp (tenor saxist) and to Art Davis (bassist) who both recorded on a track that regrettably will not be released at this time; my deepest appreciation for your work in music past and present. In the near future, I hope that we will be able to further the work that was started here.
Thanks to producer Bob Thiele; to recording engineer, Rudy Van Gelder; and the staff of ABC Paramount records. Our appreciation and thanks to all people of good will and good works the world over, for in the bank of life is not good that investment which surely pays the highest and most cherished dividends.
May we never forget that in the sunshine of our lives, through the storm and after the rain--it is all with God--in all ways and forever.
ALL PRAISE TO GOD.
With love to all, I thank you,
John Coltrane